See Us At IFAT
KEITH WALKING FLOOR Europe is exhibiting at IFAT, the world's leading trade fair for Waste Management. This four-day event in Munich brings together industry professionals from around the globe. Visit us at A5.139 to learn more about how KEITH® WALKING FLOOR® solutions have helped revolutionize solid waste handling over the past 40 years.
Innovations with Steel
Now Available in North America. KEITH announces the updated V-FLOOR® Slat design. Outfitted with a high-wear steel V-FLOOR® system, our WALKING FLOOR® unloader easily handles material such as sand, gravel and asphalt. Trailers safely unload horizontally, eliminating the hazards and limitations of tipping.
V-FLOOR® Slat Features ∙ No floor seal. ∙ Leak resistant. ∙ Full length bearing support. ∙ Impact resistant.
V-Floor Design Advantages:
Designed to handle maximum duty loads.
Slat design reduces the chance of material build up.
More floor surface moves the load.
Up to 94% of floor surface is moving vs. 75% with original design.
Improved clean out.
KEITH strives to provide the fastest unloading and lowest cost of ownership within the moving floor industry.
For more information, review our flier or check out our You Tube video.
Waste Expo 2018
Join KEITH in celebrating 50 years of Waste Expo. We will be in Las Vegas, April 24-26 showing the latest in WALKING FLOOR technology. We hope to see you in Booth 2127.
Atlanta Hosts Biomass Industry
KEITH travels to the vibrant city of Atlanta for the International Biomass Conference Expo April 16-18. Visit us in booth #1317. This event unites industry professionals from all sectors, including biobased power, thermal energy and fuels.
KEITH is Headed to Louisville
It is the biggest trucking show in the U.S. and KEITH will be there along with our incredible dealer partners! Stop by Booth 34205 to check out what's new and what you need to know about WALKING FLOOR unloaders. Louisville, Kentucky hosts this premiere event, so don't miss it, March 22-24, 2018.
KEITH At RWM 2017
RWM is the leading community for the Waste, Energy, Recycling and Water sectors to network, learn and trade. KEITH will join more than 450 exhibitors and 11,000 visitors September 12-14 in Birmingham for this premiere expo. We will be promoting our solutions for the UK waste industry, including our robust and durable V-FLOOR® system.See us at Stand 5T91 U93.
NTDA Convention
KEITH Manufacturing Co. is headed to beautiful Ponte Verde Beach, Florida for the 27th annual NTDA Convention. Members of the National Trailer Dealers Association will gather October 11-13, 2017 to discuss the latest in transport technology. We are excited to join these industry leaders to showcase new KEITH products such as our Electric CleenSweep Tarp system.
MATEXPO2017
We are excited to be exhibiting at MATEXPO2017 September 6-10, the premiere trade fair showcasing equipment for the construction industry. This five-day show will feature the latest in machinery, techniques and equipment for construction professionals. Held at Kortrijk Xpo in Belgium, MATEXPO is the largest trade fair in its sector, drawing more than 40,000 visitors. KEITH WALKING FLOOR Europe will be onsite to discuss the bulk handling solutions provided by WALKING FLOOR® systems. Designed for highly abrasive loads, the KEITH® V-FLOOR® system easily handles aggregate and asphalt. Horizontal unloading increases safety and allows you to unload on uneven ground, inside buildings and under utility lines & trees. To watch it work, view our Playlist on the KEITH YouTube channel!
KEITH at KINTEX
Join KEITH at Re-Tech 2017 September 6-8 in Gyeonggi, Korea. This international conference is held at the Korean International Exhibition Center (KINTEX) and attracts professionals in the Recycling & Waste Management Industry. KEITH is excited to introduce our material handling equipment to our business partners representing the waste & recycling disposal and collection, biomass energy, organic waste, and waste to energy sectors.
Reminder for KEITH Customers-Closure August 18-22
On Monday, August 21st, a Total Solar Eclipse will make the path across the United States. In anticipation of severe traffic congestion and for the safety of KEITH team members, KEITH Manufacturing Co. will be closed Friday, August 18 through Tuesday, August 22. We are expecting regular schedules to resume Wednesday, August 23nd. KEITH's location in Madras, Oregon is in the direct line for totality, making it an attractive location for visitors to view the event.
The small community of Madras is preparing for up to 100,000 people to arrive. This is expected to create major traffic issues the day of the Eclipse and immediately before and after.
We are asking customers to please mark this event on their calendars and plan in advance for orders.
For more information about the event, visit the Madras Eclipse website.
Tarmac Builds Largest KEITH Fleet in UK
Tarmac recently took delivery of 40 new WALKING FLOOR® trailers, resulting in the largest fleet of KEITH equipped trailers in the UK highway industry. Read the story at Agg-Net. The new vehicles will operate nationwide, delivering road building materials such as asphalt and aggregate. The company cites the reduced tipping risk and increased stability of horizontal unloading as the reason that they have purchased nearly 100 WALKING FLOOR® systems for their fleet.
KEITH Featured in Timberline
For more information about KEITH Manufacturing Co. and the wood products industry, check out this recent article in the current issue of Timberline Magazine. Timberline interviewed KEITH sales director Mike Robinson about our long history of supplying equipment for wood processing.
We're Going to The Forest Products Expo
Join us at the Forest Products Expo in Atlanta, June 14-16. We will be at booth 2037 to show how WALKING FLOOR technology provide a cost effective, low maintenance solution to fuel hauling, receiving, storage and handling needs.
We Went to ConExpo…
We went to ConExpo-Con/Ag earlier this year and came back with this great video! We met a lot of hard working haulers and enjoyed telling them about how WALKING FLOOR systems can provide a safer work environment. Trailers unload horizontally so tipping hazards are eliminated. Looking forward to 2020!
KEITH in Korea
As an international company, KEITH has a presence throughout the world. For more information on our customers and installations in Korea, visit KEITH's Korean blog site.
Join KEITH at MATS
We are excited to introduce our R2z Concept Drive with LIVE demos during the Mid-America Trucking Show. Join KEITH at booth 34205 in Louisville (more…)
Action Shot of Asphalt Unloading
Check out this "bird's eye view of a KEITH V-FLOOR® WALKING FLOOR® system unloading asphalt. This image was taken from a drone. The customer, Tarmac, is a leading construction company in the UK and is focused on sustainable building solutions. A key motivating factor in purchasing WALKING FLOOR technology to deliver asphalt is the system's horizontal unloading, which is safer than using a tipping trailer.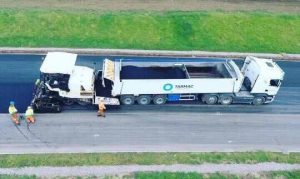 KEITH Unloads Asphalt & Aggregate
There really isn't much that a KEITH® WALKING FLOOR® can't unload. Designed for highly abrasive loads, the KEITH® V-FLOOR® system easily handles aggregate and asphalt. Horizontal unloading increases safety and allows you to unload on uneven ground, inside buildings and under utility lines & trees. Check out our Playlist on the KEITH YouTube channel!
World Ag Expo 2017
Check out the latest KEITH has to offer our agriculture customers at the 2017 World Ag Expo, February 14-16 in Tulare, CA. (more…)
KEITH will be showing off our "tough as nails" steel V-FLOOR® unloader at ConExpo in Las Vegas on March 7-11; Booth C33281 (more…)
Waste-To-Energy Video
KEITH® WALKING FLOOR® conveyors provide a cost effective, low maintenance solution to fuel receiving/storage/handling requirements. See our video of a system in action. (more…)
Join KEITH at IPPE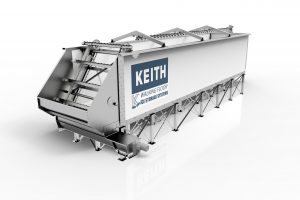 See the latest in KEITH ice storage and conveying technology at the International Poultry Expo Jan. 31 – Feb. 2, 2017 in Atlanta. (more…)
West Coast Tour
The NEW Freight Runner™ Conveyor hits the road this week for a West Coast Tour.
Join us on tour! WA, OR, CA and more. Our next demos will take place in Stockton, CA and Sacramento, CA. Then we will be our way to the Bay Area and continue down the coast.
Want to join us? Contact Mike Robinson at sales@keithwalkingfloor.com or call today.