Hydraulic Power Units
Custom hydraulic power units are built specific to each project. Sizes and capabilities vary, depending upon the design of the WALKING FLOOR® system.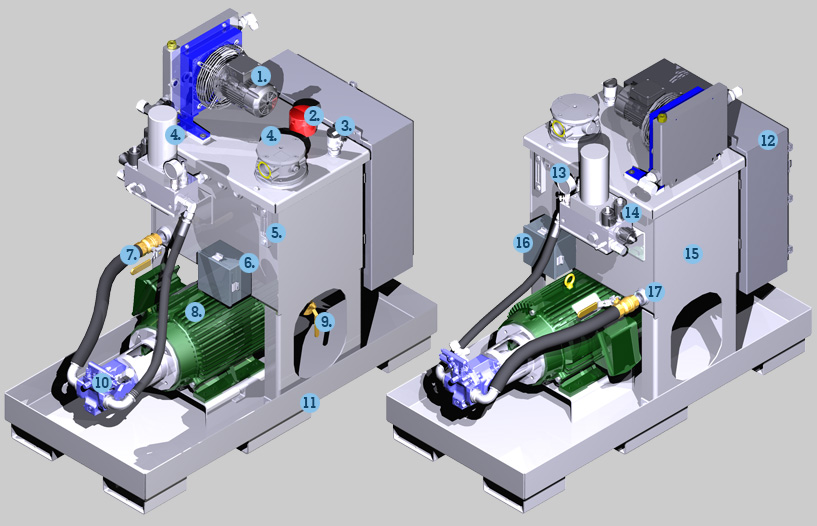 Oil heater and cooler keeps oil at proper temperature.
Reservoir breather filter.
Oil level/temperature switch can shut down the unit to help prevent large spills or damage due to high temperatures.
3-Micron high pressure and return filters with bypass indicator.
Level sight gauge.
Oil heater and cooler keeps oil at proper temperature.
Flooded pump inlet reduces opportunity for cavitation or running pump dry.
Cast iron, industrial duty TEFC (Totally Enclosed Fan Cooled) motor.
Drain valve.
Variable volume, pressure compensating, piston pump load sensing allows the system to run at minimum horsepower and temperature.
Oil containment pan collects small spills to minimize housekeeping.
NEMA 4 electrical enclosure- all electrical components are terminated on a common block.
Pressure gauge allows for easy assessment of operation.
Proportional valve provides infinitely variable floor speed control. Remotely adjustable by electrical signal.
Reservoir with internal epoxy coating and cleanout lid for full access.
Heater has two set points, one to turn on the cooler and one to shut down the unit in the case of extreme temperatures. Heater warms oil during start-up and when ambient temperatures are low.
Isolation valve for pump maintenance.